6 October
-
11 October, 2014
|
Będlewo
Announcements
OPEN CALL for participation in the School
The Organizers offer 15 grants for foreign PhD students, which cover participation costs in the school (excluding travel costs). Additionally, for students from Eastern Europe there will be a possibility to get a travel grant partially, or completely, covering travel expenses. The applicants are kindly asked to send their CV and a cover letter from their supervisors to the Banach Center office by July, 30. The decisions will be sent promptly.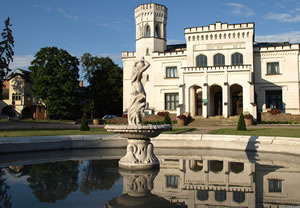 The school is organized by Research Training Group run by Humboldt University, Technical University of Berlin and University of Potsdam (see the web page) in cooperation with the Mathematical Center for Science and Technology of the Institute of Mathematics Polish Academy of Sciences. There will be two lecturers during the school.
The lecturers are: Prof. Frank den Hollander from the University of Leiden and Dr. Jan Obłój from the University of Oxford.
The courses mostly will be given usually in the morning, with a lecture of 60-90 min. each by each one of the two invited speakers, sometimes also in the afternoon. Several afternoons will be reserved for students' presentations. The students will present their projects and work to date. The school is organized not only for German and Polish students. It is open for European students. The organizers are looking for a support and will inform about the details concerning applications as soon as they get support.